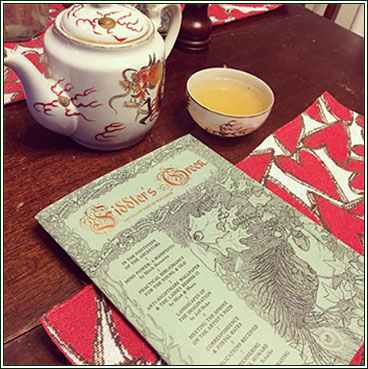 31 January 2017
The Troll Cookbook authors Clint Marsh and Karima Cammell are honored to be among the featured guests at the Berkeley Public Library Foundation Authors Dinner on Saturday, February 11.
Fiddler's Green Peculiar Parish Magazine and other works of practical esoterica will be available at the first ever San Jose ZineCon, to be held Sunday, February 12, at Local Color.
1 December 2016
To all the revelers in the peculiar parish and the fields and lands beyond, we send you warm wishes for a peaceful and joyous holiday season.
17 October 2016
Three of Clint Marsh's stories from Fiddler's Green have been posted at Reality Sandwich. Click through to read about traditionalism, punk rock, and the as-if technique, a shy person's guide to battle magic, and meeting the sphinx on the artist's path.
13 October 2016
All pre-order copies of Fiddler's Green 3 have been sent and are being enjoyed with cups of tea around the world. Copies of issues 1, 2, and 3 remain in stock for anyone who wishes to join the peculiar parish.
26 September 2016
The mailing of Fiddler's Green 3 orders is nearly complete. Overseas readers should expect to receive their copies via our UK–based forwarder, Alan Pryor of Pryor Publications.
Clint Marsh will be vending Fiddler's Green and other Wonderella publications at events in California the first three weekends in October. Please visit our Appearances and Events page for details.
14 September 2016
A public service announcement from Wonderella Printed: Your soul is yours to keep, be your body DEAD or ALIVE. Download this poster and distribute it freely in any media.
22 August 2016
Wonderella is on a month-long shipping hiatus. Orders placed beginning in mid-August 2016 will ship in mid-September.
15 August 2016
Fiddler's Green Peculiar Parish Magazine and other works from Wonderella Printed will be available at this year's Esoteric Book Conference, in Seattle the weekend of September 10–11, and at the San Diego Zine Fest on Saturday, October 1. If you are able, please come out and say hello!
11 August 2016
The third issue of Fiddler's Green is now at press and available for pre-order. Fiddler's Green 3, "Gardener's Giantess," will be available at the Esoteric Book Conference the weekend of September 10–11, and pre-order copies will mail around then as well.
13 April 2016
Wonderella Printed will table at this year's Bay Area Anarchist Book Fair on 23 April.
Half the stock remains of the special editions of Fiddler's Green 1 and 2. Order yours now—when they're gone, they're gone!
22 January 2016
Fiddler's Green is back! Special editions of Fiddler's Green 1 and 2 are now available, in anticipation of our table at this year's Occult Humanities Conference. Order yours, or visit us in New York the weekend of February 6-7.
* Read Past News Items *
* Send Us Your Comments *