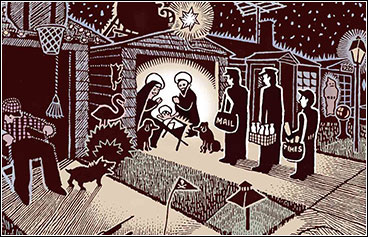 19 December 2014
We're so pleased to share with you a seasonal image from Wonderella artist Jeff Hoke. Jeff originally created "Christmas in Suburbia" as a holiday card in 1983, and he has dusted off the picture for this year. Click the image above to see it in its full glory. Happy holidays to you from Wonderella Printed!
30 July 2014
Wonderella Printed returns to the Esoteric Book Conference in Seattle, Washington this September 6–7. Learn more about this annual gathering of publishers, artists, authors, and readers by visiting the Esoteric Book Conference website.
This summer, Wonderella Printed celebrates 21 years of publishing practical esoterica. In honor of the anniversary, we've commissioned a poster from Bay Area artist R. Black. Join in the celebration by ordering yours at the Wonderella Turns 21 page.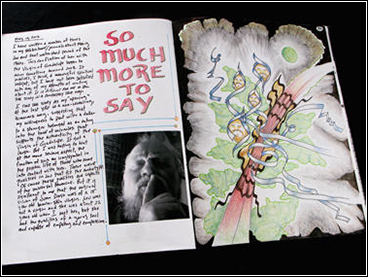 4 May 2014
Wonderella artist Will Cloughley, creator of Red Rock Black Sun, teaches his "Black Bookista" technique of art journaling on 21 May at the San Francisco Center for the Book. Learn more about "The Book of You," and sign up for a seat in the class, at the SFCB website.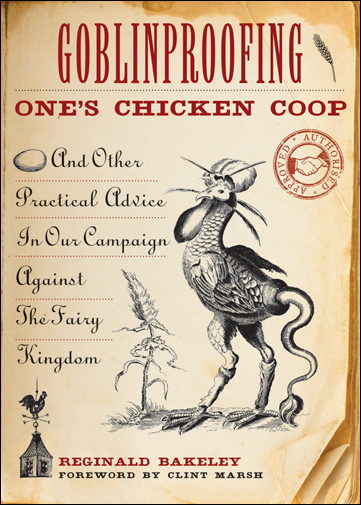 25 February 2014
In 2013, Wonderella Printed and Conari Press were honored to receive the Diagram Prize for Oddest Book Title for our book Goblinproofing One's Chicken Coop and Other Practical Advice in Our Campaign Against the Fairy Kingdom. Nominees for this year's award have been announced, and we encourage you to vote for your favorite at the offical Diagram Prize website.
Author Lucy Adams recently spoke with Clint Marsh about Goblinproofing One's Chicken Coop and Reginald Bakeley. She has posted excerpts of her interview for you to listen to on her blog.
* Read Past News Items *
* Send Us Your Comments *